How to use and search the List of Historic Place Names of Wales
Quick Search for Place Name record – enter your search in the search box at the top-right corner and click Search, this will search for the text you entered in all records in our database.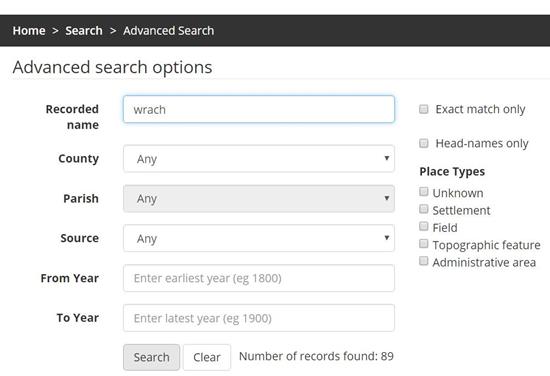 Advanced Search for Place Name record – Click Search in the main menu, then select Advanced Search. Advanced Search gives you the option to search using various filters including County, Parish, Source, Year (From & To), Place Types etc.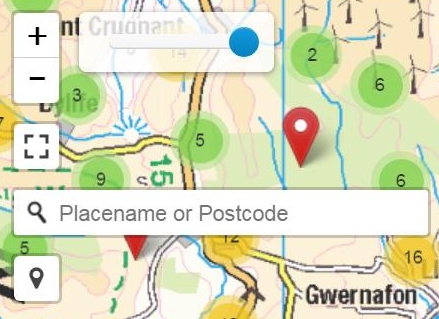 Map Search for all place name records in an area – Click Map in the main menu, then click the Search button in the map window (magnifying glass icon). Enter the name or post code for the area you want to focus on. The map will recenter on your search location and display all records in that area – you can pan and zoom in/out to move around the map.
Locate Me function – to focus the map on your current location, click the Locate Me button.
Full Screen Map – to enlarge the map to cover your entire screen, click the full screen map button – click again to return to normal viewing mode.
Switch between Modern and Historic map layers – using the layer selection button in the top-right corner of the map window you can toggle between modern and historic Ordnance Survey mapping.
To view a record identified on the map - select the marker to display its name, then click on the blue text to link to the full record.
Using the Glossary – click Help and then select Glossary from the dropdown menu. The Glossary contains about 900 commonly used place name elements, the English translation of each element, and two examples of place names containing each element.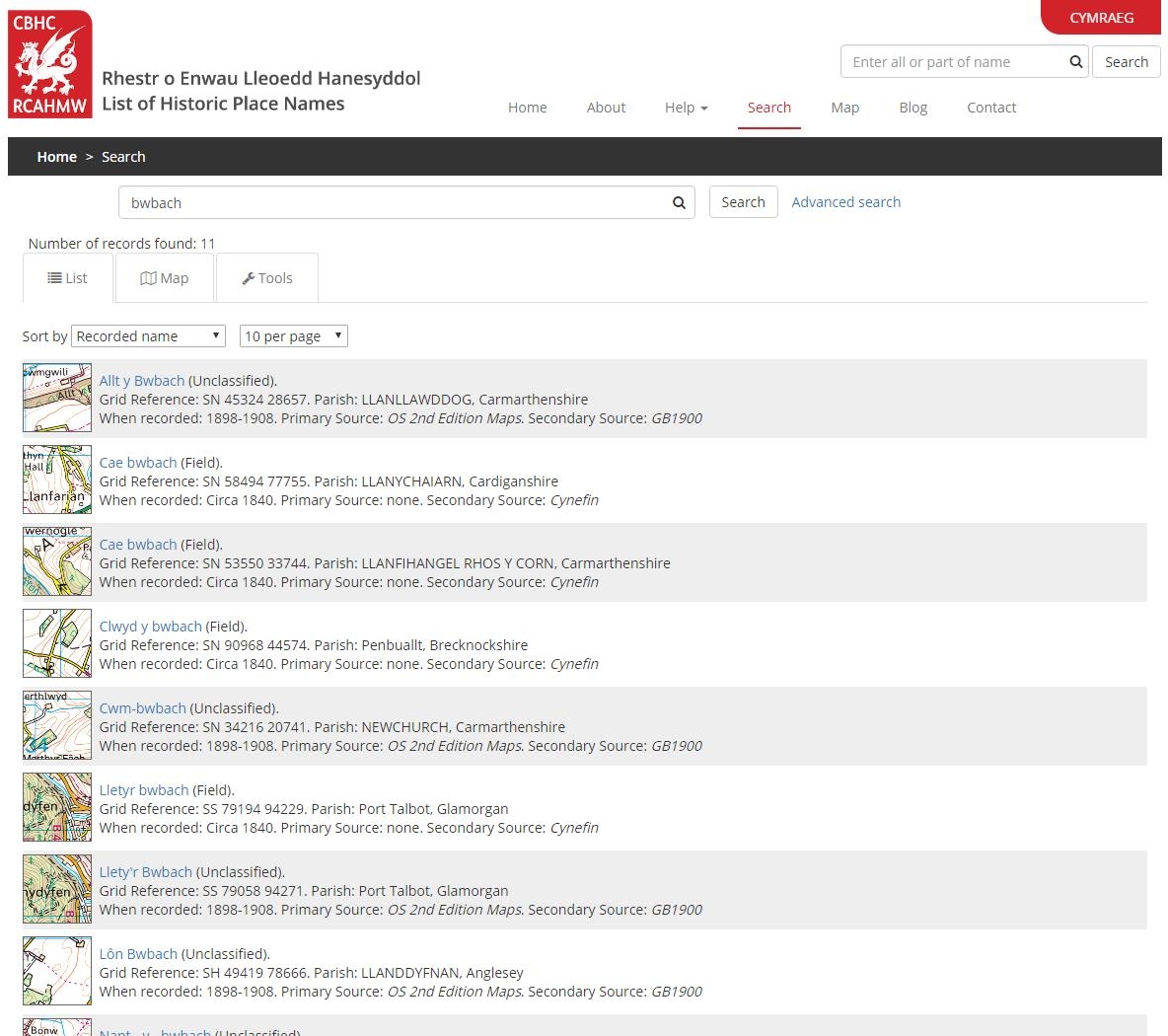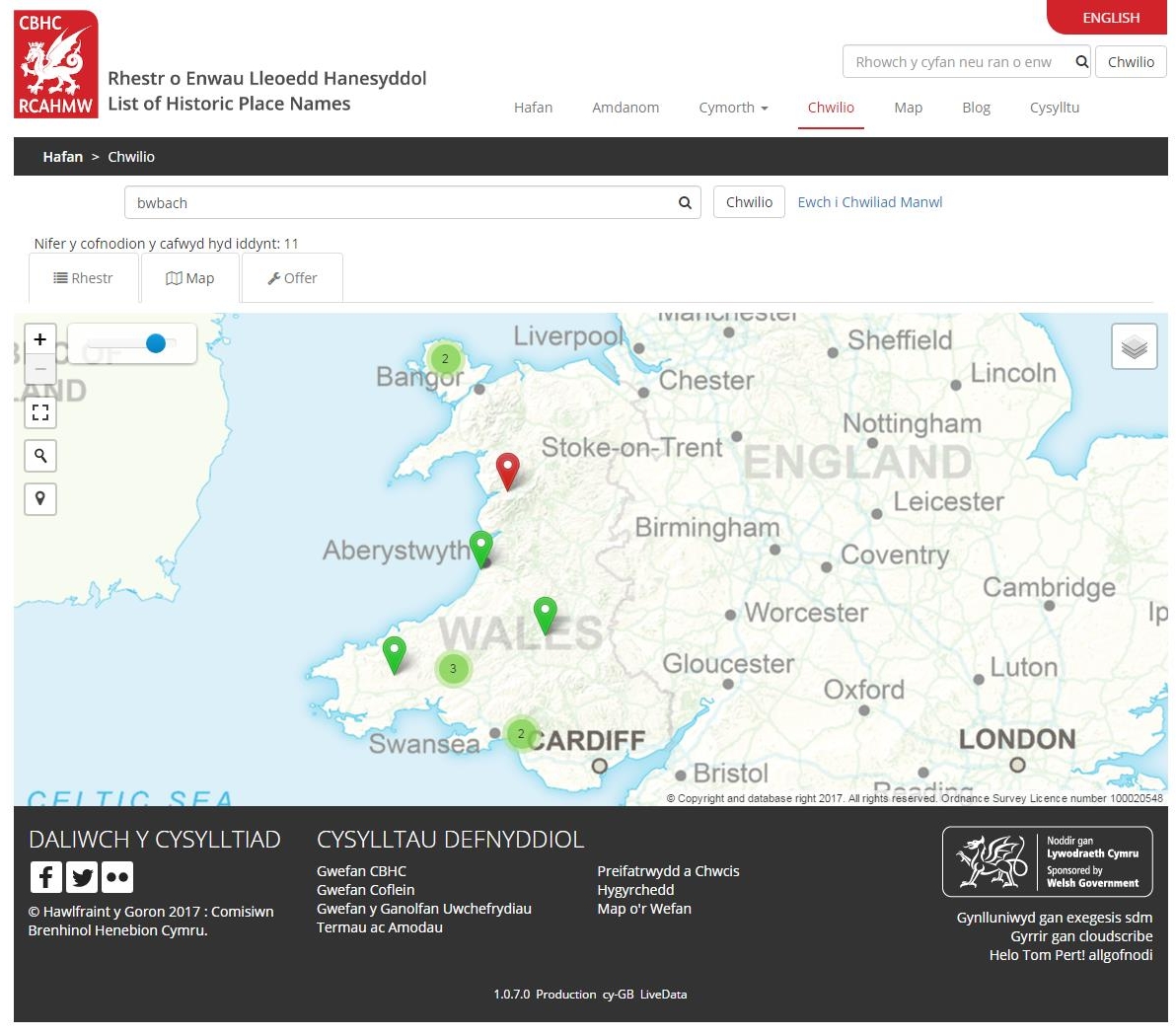 Each place name element in the Glossary is also a hyperlink that will search the List of Historic Place Names for any records where the element specified is included. When you select an element the website will link you to a Search Results page, where you can view relevant records as a list, a distribution map, or use the Tools tab to download the search results as a .csv file.
Using the List of Historic Place Names of Wales data for external applications – if you would like to use this data for external projects, please contact us.