Apologies for the deafening silence which has fallen on this blog lately, but there's a good reason for it! You might remember that we received the rest of the Cynefin Project data from the National Library just before Christmas, and since then, James has been going through them and cleansing the data in order to upload them to the List. This meant going through over 900,000 records, and pulling out each one that wasn't actually a name, like 'field' or 'house and garden'. This having been done, we've got 517,463 names left. These include names in Welsh, English, and a mixture of the two, some of them particularly interesting, such as Cae Dungeon in Glascwm, Radnorshire. Why was there a dungeon in a rural parish? There's also Maes y Droell in Llanarmon yn Iâl, Denbighsire, which according to local tradition got its name because a woman was killed there with a spinning wheel (troell).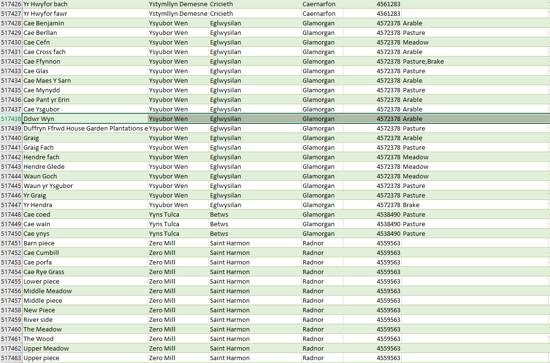 Many people collecting information for the tithe wrote 'ditto' rather than repeating names in order to save time. As well as removing the non-name results, James has also been extracting the dittos, and keeping them to one side. There's a little over twenty thousand of them, all told. Each datum comes with a link to the original tithe key, so replacing the dittos with the real names will be simple enough, and we intend to do this once the first half million names have been uploaded.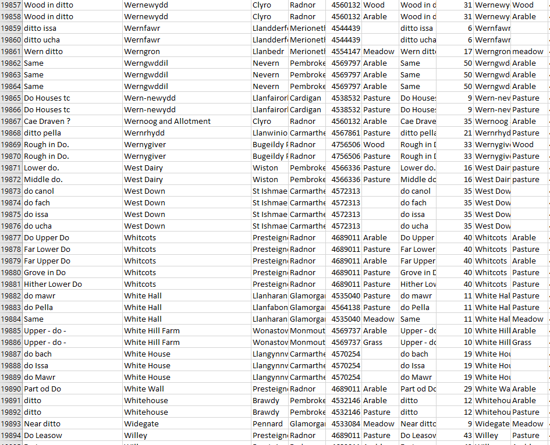 We hope to upload these names on Monday, and we'll be announcing the news on this blog, and on our Twitter account @RC_EnwauLleoedd, so keep your eyes peeled!