Second in our series on the most recent sources we have been adding to the List is the Multilayer Map project, or the Deep Mapping Project.
Deep Mapping Estate Archives is an Arts and Humanities Research (AHRC) funded collaborative project across Welsh universities, archives, and heritage institutions. The project has digitally mapped historical records to the real-world locations they relate to, which allows for in-depth analysis of landscape continuity and change.
This pilot project has been focused on a small area of North East Wales consisting of three parishes in Denbighshire; Llanarmon yn Iâl, Llanferres and Llandegla and three adjacent parishes in Flintshire; Treuddyn, Nercwys and Mold (as far as the river Alyn). The project has brought together a wide range of large-scale historical maps to create a free, publicly accessible web map:
1869-1874 | Ordnance Survey County Series Mapping (25.344 inches to 1 statue mile or 1:2,500)
1871 | Ordnance Survey Town Plan (126.72 inches to 1 statue mile or 1:500)
1837-1848 | Tithe Survey Mapping (Various scales)
1800-1830 | Enclosure Mapping (Various scales)
1620-1858 | Estate Mapping (Various scales)
The web map presents digitised scanned images of the original historical maps which have been geographically aligned to the modern map using a process called georeferencing. Each map source has also been 'vectorised'. This means that shapes (polygons) matching the lines drawn on the historical maps have been created digitally, allowing users to click on any landscape feature (field parcel, building, road) to get further information.
The pilot project has now ended, and the results of the research can be seen on the project website. You can discover more about the project by listening to the lecture given by Jon Dollery and Scott Lloyd from the Royal Commission here.
All the maps contain place names, all of which, some 2,000 odd, have now been added to the List. This means that we now have a very decent understanding of the development of the place names in the project area, since we now have lots of names from the Parochialia, the Tithe, and various early maps from this area of the North-East. You can find all of the names collected by the project here.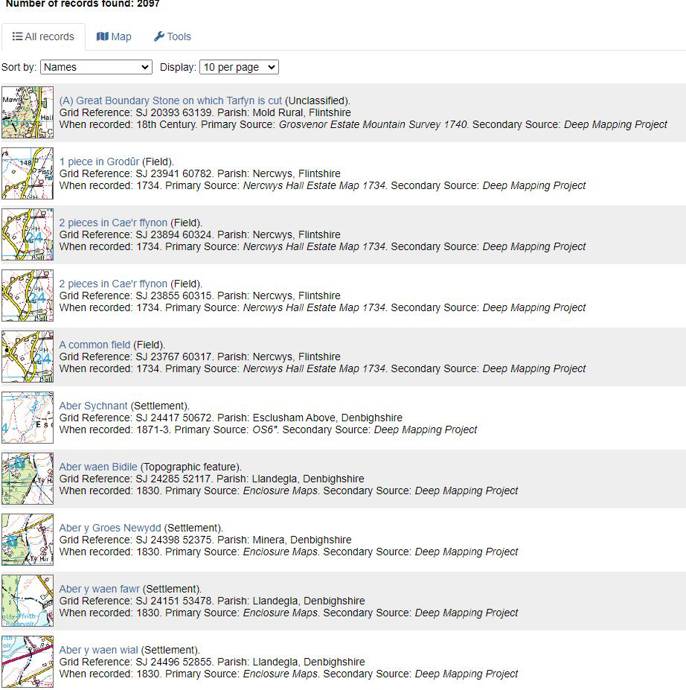 If you want to view or submit comments you must accept the cookie consent.